Filter:
The filter cleans the water. You should use a filter. Some companies tell you their products don't need a filter when used with city water, or that it is optional. Optional at the expense of your future time and money! Save yourself dead plants and lots of grief and just install a filter. Drip emitters have very small openings that are easily clogged. Water piped to your house is not free from stuff that will clog your emitters! It contains small grains of sand, bits of rust and scale from pipes, even very small snails (the size of a grain of sand) are very common in city water systems.
I suggest that you use a filter with a 150 mesh screen or one with a higher mesh number like 200 mesh. A good quality filter may be installed before the valve or pressure regulator, but the inexpensive filters often sold for drip systems should be installed after the pressure regulator. A good filter will have a maximum pressure rating of 10,3 bars (150 PSI) or higher. If the package does not list the pressure rating it is probably an inexpensive low-pressure model.
I like to use a top quality filter and install it right at the water source so it protects the control valves and the pressure regulator too. Most valve failures result from sand or rust particles clogging the tiny passages inside the control valves! As long as you need to use a filter, why not get a good one and have it protect the valves too? It will probably pay for itself within 5 years by preventing a valve failure! Use a filter that is the same size as, or larger than, the valve. For more information there is a separate, free, tutorial on filters. Click here for the Filtration Tutorial.
Emitters:
The emitters are what controls how fast the water drips out onto the soil. Most emitters are small plastic devices that either screw or snap onto a drip tube or pipe. Some models are preassembled as part of a tube. The most common emitters sold emit 4 liters/hour (4,0 l/hr) of water. That's about 1 gallon per hour (1 gph). There are many different types and brands available, they each have advantages and disadvantages listed in the detailed page on Drip Emitters. Click here for detailed information on what type of emitter is best for your drip system.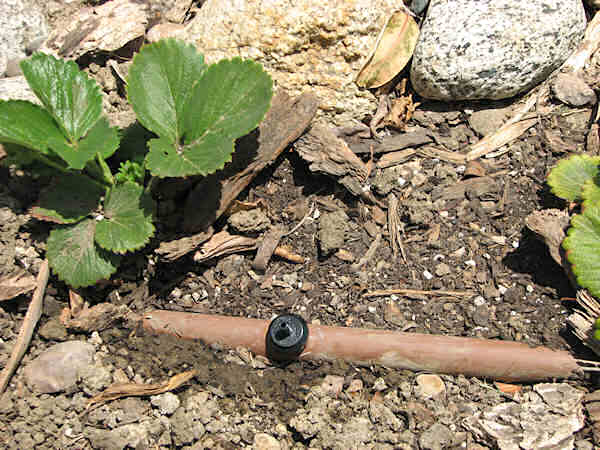 Drip Emitter on a tube
(If you guessed the plants are strawberries, you guessed correct!)
google_protectAndRun("render_ads.js::google_render_ad", google_handleError, google_render_ad);
Mainline:
The mainline is the pipe that goes from the water source to the control valves. In the illustration of a very simple drip system above the gray colored vertical pipe under the valve is a very short mainline. The mainline pipe may be made of galvanized steel, copper, SCH 40 PVC, SCH 80 PVC, Cl 315 PVC, Heavy Wall Polyethylene (SDR 7 or SDR 9) or PEX. PVC is damaged by sunlight and should be buried or protected. Apply several heavy coats of paint or wrapping PVC with aluminum tape if it is above ground. Polyethylene has a low burst pressure and should only be used for mainlines where local conditions are appropriate and water pressures are lower than 3,5 bars (50 PSI). PEX pipe is a special type of polyethylene made for use with higher pressure, often sold as a replacement for copper tube. It may be used for a mainline, however, be aware that due to a much smaller inside diameter it has poor flow qualities when compared to copper. I recommend that when using PEX you use one tubing size larger than you would use for copper tube. On large drip systems a single mainline might lead to several control valves located at different areas of a yard. On large properties a mainline will be install in a loop around the perimeter of the property. Because the water in the mainline is always pressurized, hose bibs are often installed on the mainline. On a large property with a looped mainline hose bibs are often installed on the mainline at 30m intervals (100 feet) around the property to allow for use of hoses. I like to foliar fertilize my plants using liquid fertilizer from a hose-end applicator, and the hose bibs make this easy. There are also devices called "quick coupler valves" that are essentially a water outlet that is mostly underground. You plug a special coupler with a hose attached to it into the quick coupler valve. They are typically only available from on-line retailers or local irrigation specialty stores. I use them in most of my commercial irrigation systems, the maintenance folks love them.
Lateral and/or Sub-Main:
The lateral is the pipe located between a control valve and the drip tube. Some people use the name "sub-main" for this same pipe. I used the term sub-main in the first version of these guidelines, but have decided to use lateral now to avoid confusion with the names used for sprinkler systems. The lateral pipe may be PVC, PEX, or polyethylene. The lateral is located after (downstream) of the pressure regulator so it is not necessary to use a pipe with a high pressure rating. Class 200 PVC or standard "polyethylene irrigation pipe" work good for laterals. Class 125 PVC may also be used but be careful as it breaks easily. PVC is damaged by sunlight and should be buried or protected. Apply several heavy coats of paint or wrapping PVC with aluminum tape if it is above ground. Many small drip systems do not have laterals, in those systems the drip tube connects directly to the control valve. The illustration of a very simple drip system at the top of this page shows a system without a lateral. Laterals are often used when multiple drip tubes are needed, such as when the irrigated area is too large for a single drip tube. For example a single lateral or multiple laterals might extend from a single control valve to several drip tubes located in different areas of a yard.
Drip Tubing (Drip Hose):
Drip tubing is a special tube used in most drip systems. The tube is laid on the ground surface between the plants. The emitters are installed on this drip tube. Drip tubing is a thin-wall polyethylene tube (thinner than standard polyethylene hose), has a low pressure rating, and is generally produced in metric sizes. Sometimes it is called drip hose or drip pipe. Common sizes are 12 mm (0.455" or 3/8"), 16mm (0.620" or 1/2"), 18mm (0.720" or 1/2"), and 24mm (0.940" or 3/4"). Do you see the problem? Two sizes are commonly referred to as "1/2 inch" in the USA! The fittings for these two are
not
interchangeable. So make sure you know what you're getting when you buy it!
Do not bury drip tubing underground-
gophers and moles love to chew on buried drip tubing! Some drip systems do not use drip tubing. These systems are commonly called "hard-piped drip systems" and are used mostly for very high quality drip systems in commercial landscapes. On a hard piped drip system the emitters are installed directly onto the laterals. This requires special emitters with threaded connections rather than barbs. For a drawing showing how a hard piped emitter works click here.
Drip Tube Fittings:
Fittings (including tees, couplings, ells, and adapters) are the plastic connectors used to attach the drip tube to other tubes, to control valves, or to pipes. Important- make sure the fittings are the exact right size! Using fittings made for a different tubing size will result in the tube blowing out of the fitting. 9 times out of 10, when a tube blows out of a fitting it is because the fitting is the wrong size. If you use a 15mm fitting on 16mm pipe you are going to have problems. Remember, both 15mm and 16mm tube are often labeled as 1/2 inch size in the USA!
Barb type fittings insert into the drip tube. Generally they should not require the use of a hose clamp to hold them on, if a clamp is needed the water pressure is too high or the fitting is the wrong size. The advantage of barb fitting is that they are generally easier to install than the compression type. The disadvantage of the barb type is that as the tube goes over the barb it is stretched, which weakens the tube. The weakened tube will sometimes split open at the barb after a few years, especially if exposed to sunlight. OK you ask, if barbs are a problem then why do they use barbed fittings with standard polyethylene pipe? Standard poly pipe has a much thicker wall than drip tube and doesn't stress as much when stretched. You also clamp standard poly pipe to the fittings, which helps keep the pipe from splitting (that's why you need to clamp poly pipe even if it seems to stay in place without the clamps). Drip tubing is not clamped to the fittings (clamping doesn't help prevent splitting because of the thin drip tubing wall).
Compression type fittings are basically the reverse of a barb fitting. The tube slides inside the fitting, where an internal barb compresses the tube and holds it in place. The advantage of compression fittings is that they do not stretch the tubing, so they are not a cause of premature failure of the tube. Once the tubing is inside a compression type fitting it is very difficult to remove.
As a general rule, barb fittings are best used for buried or covered tubing (the tube is not exposed to sunlight) and compression fittings are used for tubing that is not buried.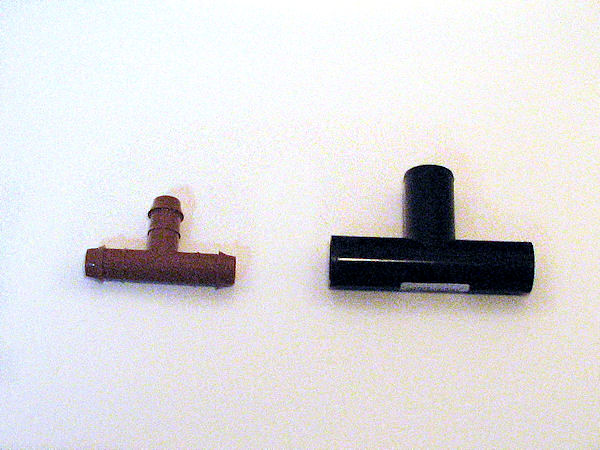 Drip Tube Fittings
Left: Barbed Type Right: Compression Type
Lubrication: Some people just don't have the strength to shove the tubing into a compression fitting. First make sure the fitting is the right size, as that is very often the problem. If it is, then you can use a water soluble lubricant on the tube. Do not use oil, silicon sprays (WD-40) or soap! Absolutely do not heat the tube with a flame, hair dryer, or hot water as that will stretch the tubing and create weak spots! What's a water soluble lubricant? Try a product called K-Y Jelly. Attention guys! Avoid terminal embarrassment! Do not head for the hardware store for K-Y Jelly. Try the drug store, err, lady's personal hygiene department. Might want to take along the wife. Need I say more?
Spaghetti, Feeder, and/or Distribution Tubing
Feeder Tubes, Spaghetti Tube, and Distribution Tubing are all names used for small diameter poly or vinyl tubes, anything less than 10mm (3/8 inch) in diameter. I love spaghetti to eat, but I hate it for use in drip systems! The problem with these small tubes is with maintenance. These little tubes tend to be easily cut, broken, pulled loose, etc. and are generally a nuisance. This small tube is often connected to the outlets of multiple-outlet emitters. This tubing is the reason I do not recommend the use of multiple-outlet emitters. If you are a meticulous type person who can be very careful, do your own yard maintenance, and you don't have pets or kids in the yard, you may not have any problems. But for most of us, regret soon sets in as repairing these small tubes becomes a weekly maintenance chore. There are a couple of exceptions where the tubes work well. One is when they are stapled above ground to a trellis or arbor for watering hanging plants. They need to be firmly attached, in a location where they will not be damaged. The other is for risers used on hard-piped drip systems.
Air Vent:
The purpose of an air vent is to prevent air from being sucked into the emitters when the system is turned off. When the drip system is turned off the water in the pipes drains down to the lowest point, where it drains out of the emitters. As the water drains out it is replaced with air that is sucked into the tube through the higher emitters. As the air is sucked in, dirt may also be sucked in with it. The dirt may then get stuck and clog the emitter outlet. The purpose of the air vent is to allow air to be sucked in through the vent rather than the emitter. When used, the air vent is installed at the highest point on the drip tube. It is important to make sure that the air vent will not become covered with dirt or dirty water as that would allow dirt to be sucked into it. Always use air vents if the drip system is installed on a slope, as the elevation change creates a more powerful suction that will suck in more dirt. Air vents often are not used on smaller drip systems. If you don't use them just make sure the highest emitters aren't sitting where dirt can easily be sucked into them.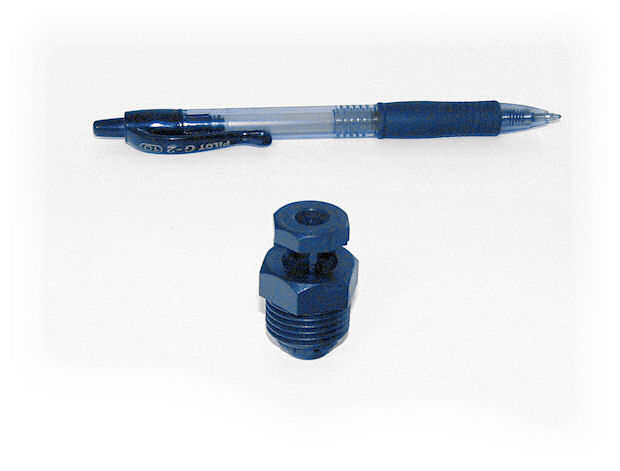 A small air vent designed for a drip system.
Flush Valve or End Cap:
The end cap is important. Without it the water all runs out the end of the drip tube. (Well, duhhh...) The water in a drip system flows very slowly in the tubes. This allows any sediment in the water to settle out, over time a layer of this sediment develops inside the tube and needs to be flushed out. In some climates algae may also grow in the tubes and need to be flushed out periodically. Normally drip tubes are flushed once a year. If you have algae problems you may need to flush the tubes more often. Automatic flush valves are available that flush the tubing each time the water is turned on. I do not feel that most of these are particularly effective. They simply do not flush for long enough or flush enough water out to remove much, if any, sediment or algae. My preference is to use a manual flush valve, or just use a simple hose-thread cap that you can remove to flush the tube. Here's a money saving tip; you can make a end cap/manual flush valve by just bending over the end of the drip tubing on itself to crimp off the flow. Then use some wire or a cable/zip tie to hold the tube in the crimped position. Un-crimp and straighten the tube when you want to flush it.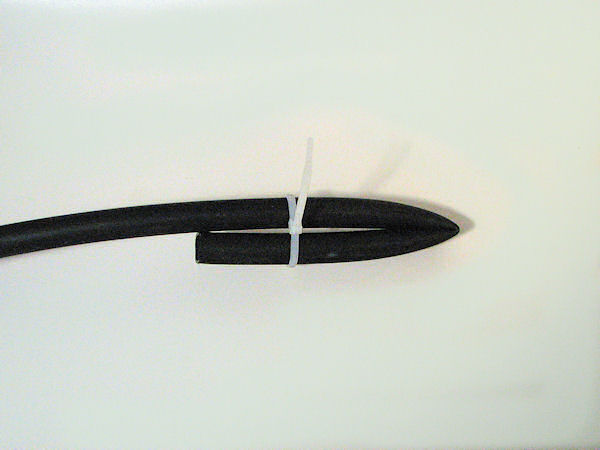 Tubing end crimped with a cable tie.
For very high end drip systems with lots of algae or sediment you may want to build your own auto flush unit. This is an expensive project requiring a high level of skill and knowledge! Manifold the ends of the drip lines together, so that a single flush outlet can flush the entire drip circuit. Install a anti-contamination type solenoid valve as the flush valve on the end of the flush manifold. (An anti-contamination valve is a special irrigation valve made for use with dirtier than normal water.) Wire the flush valve to an irrigation controller and program it to open the flush valve on a periodic basis, typical might be for 2 minutes once a week. The drip circuit control valve must also be on during the flushing. So both the control valve AND the flush valve must be activated at the same time. Do not wire them together on the same controller circuit as that will cause the flush valve to remain open all the time. You will either need to use two controllers and then coordinate the times on them, or you will need a controller that can run two valves on two different programs at the SAME TIME. Warning; most irrigation controllers can't do this. I suggest you take these instructions and go to a professional irrigation dealer and have them assist you in your controller selection. Make sure you have someplace for the flush water to go, as it will release a lot of waste water when the flush valve opens. Keep in mind that both anti-contamination valves and the special controller you need to use are expensive and this is not a very cost effective solution in most cases